Exciting news, Sumatran Trilogy fans! My third picture book, and the final story in the Sumatran Trilogy, has arrived!
That's right: Hooray for Heidi! has been printed and I couldn't be more pleased with how it has turned out. My wonderful illustrator, the super-talented Ukrainian artist Olena Osadcha, has done an unbelievable job of bringing the story to life, capturing the highs and lows of Heidi the turtle's adventure with her jolly elephant friend José. Thank you, Olena, for managing to illustrate our third collaboration during such difficult times in your country. I have dedicated the book to you and your fellow Ukrainians.
Hooray for Heidi! is perhaps the funniest and most light-hearted book in the series, with amusing illustrations of rainforest animals taking part in Olympic events! But it also deals with emotional situations, like the other two books, as Heidi experiences feelings of jealousy, insecurity and inadequacy while watching other, more athletic animals excelling in their respective sports. You'll be pleased to know that it all ends happily, although if you want to find out what happens you'll have to order your copy here!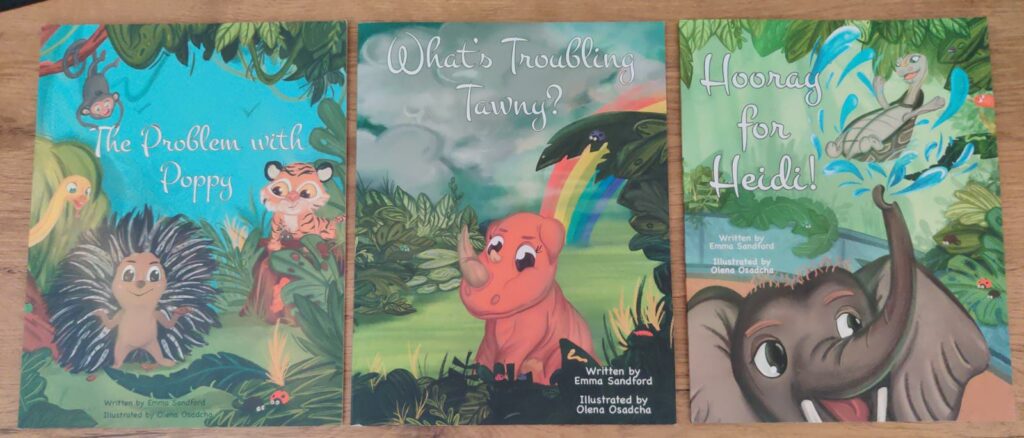 As with The Problem with Poppy and What's Troubling Tawny?, my latest book was written in association with my partners Rainforest Trust UK, who do amazing work saving acres of rainforests in places like Sumatra where the books are set. Once again, my publishers are generously giving £1 per book sale to Rainforest Trust UK, so you can buy Hooray for Heidi! (or the other books) knowing that you are helping save animals and the environment. A win-win!
The other exciting news is that Hooray for Heidi! has already picked up a five-star review. LitPick Book Reviews described it as "a jam-packed book" that "talks about friendship and camaraderie" and you can read the review here.